Professional Legionella Risk Assesment,
Northstar Web Design Leeds
This website for Archer and Stone was designed and built by Northstar, a web design company based in Leeds, West Yorkshire, UK. Northstar was established in 2000 and has created scores of websites for individuals, businesses and corporations throughout the UK and Europe.

Northstar is a full service web design company, providing small to medium sized business with all the skills they need for online marketing.
Internet marketing services
Northstar can take care of all your online marketing requirements, from web design and construction through to email marketing and search engine optimisation.
Web design and construction
All Northstar's websites are built from scratch - we don't use templates - because each client has individual needs that need a unique solution. Naturally, all pages are built to the highest international standards and are independently tested and approved by W3C for valid markup. Accessibility is also a legal requirement under the Disability Discrimination Act - our sites meet WAI Triple A compliance.
Search engine optimisation
As traditional marketing methods decline, more companies are beginning to realise the potential of the internet to generate leads and sales.
Northstar has specialized in search engine optimisation (SEO) for 9 years, from the actual website's page design, writing keyword rich copy, submitting to all the relevant search engines and a comprehensive range of link building services.
Copywriting
Many companies find it difficult to write about themselves and create compelling, succinct copy that gets their benefits across. Fred Campbell has over 25 years copywriting experience, providing text that satisfies not only your visitors appetite for information, but also, just as importantly - the search engines.
Other services
E-mail marketing and Newsletters, E-commerce, Video Production.
Northstar Web Design
Heritage Cottage
Old Lane, Bramhope
Leeds
West Yorkshire LS16 9AZ
Northstar on Google Places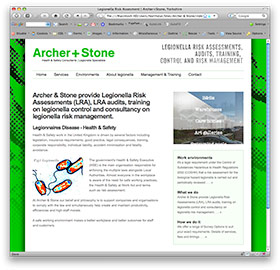 "As a start up freelancer I know a good website is a requirement these days and I searched via google and scanned various sites and profiles.
What impressed me about Fred Campbell's Northstar was his own site was stylish, visually appealing, informative without being too heavy on text and a bit savvy too.
When we spoke on the 'phone he was not pushy and seemed composed and competent which transpired in his work for me.
Archer and Stone was given added status by his thoughtful design, layout and effective use of graphics. I wasn't quick at providing content (busy life) but he was patient and the end result at is great.
I would recommend Fred at Northstar heartily and expect others to get an equally good service."
Karl Collingwood-Thirlway, Archer & Stone